An ASAP joint project with the
ATHENA Network

From 10-12 July 2013, more than 35 individuals with extensive experience on gender equality, from over 20 countries, met in Geneva to focus on the Global Fund to Fight AIDS, Tuberculosis and Malaria (the Global Fund).
Twenty-three of the participants were women's rights advocates working primarily at the community level, with grassroots organisations; over three-quarters of those advocates are openly living with HIV, including several from key populations. They were joined by representatives from the Global Fund and United Nations agencies. The meeting was supported by the Secretariat of the Global Fund, the Joint United Nations Programme on HIV/AIDS (UNAIDS) and the United Nations Development Programme (UNDP), with some additional support from Deutsche Gesellschaft für Internationale Zusammenareit (GIZ). The overarching aim was to strengthen women's engagement with the Global Fund.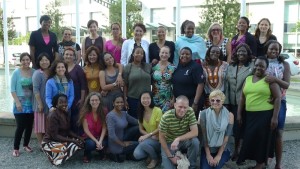 Outcomes of the meeting
Presentations:
The UNAIDS Gender Assessment Tool for National HIV Responses
Gender Equality and HIV Programming- a Spectrum
Actions from Joint Civil Society Delegations Consultation on NFM
Outcomes Statement
Full Evaluation
Background Documents
To download a document, right click (or control click on a mac) the document's link.
The background material below is a selection of documents that was provided to participants prior to the meeting, giving a varied insight into the Global Fund, the New Funding Model and Gender Equality. Firstly, here is a video introduction to the Global Fund (it is just 10 minutes long):
Introduction to The Global Fund
Global Fund Documents
The Global Fund Strategy
Gender Equality Strategy
Sexual Orientation & Gender Identity (SOGI) Strategy
Community System Strengthening Framework
HIV and Human Rights Information Note
TB and Human Rights Information Note
Community Strengthening Systems Information Note
Harm Reduction Information Note
SOGI Information Note
Explaining the Global Fund
Global Fund 101
Global Fund Related Acronyms
New Funding Model
Background to NFM and Guidance:
Global Fund Strategic Investment Information Note
UNAIDS Support to Countries in the New Funding Model
ICASO Civil Society Global Fund Application Preparedness Guide
Assessments of NFM:
Communities Consultation on the NFM: Final Report
Communities Consultation on the NFM: Action Plan
Communities Consultation on the NFM: Final Statement
NFM Rapid Assessment (by the Open Society Foundation)
The Experience of Zimbabwe with the Global Fund's New Funding Model
Evaluations of GES & SOGI
Formative Evaluation of Gender & SOGI Strategies ( PANGAEA)
Global Fund response to PANGAEA evaluation
GCWA Statement
GF Gender Equality Strategy Consultation Report (FEIM)
ASAP Background Paper on Gender & the Global Fund
Informal Paper of the GES Implementation Review
Gender and HIV – Key Document
Mainstreaming Gender into National HIV Strategies and Plans
A Useful Resource
Global Fund Observer is a newsletter that explains and explores the world of the Global Fund to Fight AIDS, Tuberculosis and Malaria. It is published by Aidspan about twice a month.